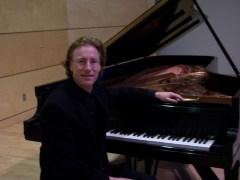 Carl Montgomery
Carl Montgomery, A.A., A.M., B.Mus. (University of British Columbia), A.V.C.M. (accompaniment and chamber music with Rena Sharon), taught piano at Douglas College from 1988 to 2006 and at Langley Community Music School from 1988 to the present. Carl is an enthusiastic music educator, adjudicator and clinician and performs regularly as an accompanist and chamber musician throughout greater Vancouver and the Fraser Valley.
Since moving back to his hometown of Sechelt in 2006, Carl continues to be an active faculty member at LCMS in Langley and shares his home studio, Montgomery Music, with his wife Katherine. He is a member of the British Columbia Registered Music Teachers' Association, Sunshine Coast Branch. Carl enjoys playing saxophone with the Creek Big Band and regularly guests with the Forward Motion Jazz Orchestra in Vancouver. He has recently performed in the Gibsons Jazz Festival, Pender Harbour Jazz Festival, Artesia Coffeehouse and the Cottage Bistro.
To contact Carl, please email him at: carl@montgomerymusic.ca
Katherine Hume
Katherine is a graduate of McGill University, where she completed a BMus in piano performance with Louis-Philippe Pelletier. She continued her training in chamber music and accompaniment with Catherine Courvoisier in Switzerland, then with Douglas Finch at Trinity College of Music in London, England, receiving her MMus in Performance Studies in 2000. Katherine has also participated in numerous masterclasses, notably with Paul Badura-Skoda and Roger Vignoles, and summer sessions at Centre d'Arts Orford, Québec and Adamant Music School, Vermont, USA.
As a collaborative pianist, Katherine has performed across Canada and Europe. She performed in the International Stepping Stone Competition with flutist Sara Hahn (principal, Calgary Philharmonic Orchestra) in Rimouski, Québec and has been featured on CBC Radio 2's "Westcoast Performance" as well as with many ensembles including the Vancouver Children's Choir, North Shore Light Opera Society, Symphonietta of Chilliwack, UBC Opera Ensemble, Opera Piacere, Opera Breve and Piano Extravaganza, a two-piano team she founded with partner Nita Pelletier. In the 2011-2012 season, Katherine performed a series of recitals for piano solo in the Sechelt Arts Festival, Third Sunday at Three series, St. Alban's, Richmond, B.C.; Artist in our Midst series, St. Hilda's, Sechelt, B.C.; and Mount Royal United Church, Moncton, N.B. In June 2016, Katherine became Music Director at St. Hilda's Anglican Church where she plays piano, pipe organ, flute, conducts the choir and began the Music Arising! St. Hilda's Recital series. She presented a lecture-recital "Music to my Ears" for Eldercollege in Sechelt in October 2017.
Katherine is a RCM Certified Teacher, President of the Sunshine Coast Branch of the British Columbia Registered Music Teachers' Association, and the Sechelt Centre Representative for the Royal Conservatory of Music Examinations. Other areas of professional interest include contemporary music, posture and relaxation techniques and French music of the 19th and 20th centuries. Katherine teaches piano and music theory in English and French at her home studio, Montgomery Music, in Sechelt, B.C. with her husband Carl.
To contact Katherine, please email her at: katherine@montgomerymusic.ca

Montgomery Music
Carl Montgomery & Katherine Hume

Sechelt , BC

Phone: 604.885.2069